COMPLETE Fuengirola
property


AREA GUIDE

Before I start if you have anything to tell about Fuengirola, have some nice photographs, or would like to tell us your story, write here!

If you would like to subscribe to our newsletter for Spanish news in English, click here.

Well lets start! Here you can find out what Fuengirola has to offer and if the area is suitable for you, before you make any decisions to move there.

Quick view of what is included on this page:

Map of the location of Fuengirola.

Fuengirola property view.

General description of Fuengirola.

Fuengirola golf

Google earth image of Fuengirola.

Google earth free download.

Virtual tours of Fuengirola.

Nearest airport.

Arriving by car; including recommendation for the best rent a car agency.

Arriving by train; including times and prices.

Arriving by bus; including times and prices.

Arriving by taxi; including laws regarding passengers, location of taxi stand and prices.

Weather in Fuengirola.

Recommended restaurants in Fuengirola.

Look for books about Fuengirola at Amazon's online shop.

Things to do in Fuengirola.

Church services in Fuengirola.

Local market days in Fuengirola.

Useful phone numbers.

Contact us if you have anything to add about Fuengirola.
----------------------------------------------------------------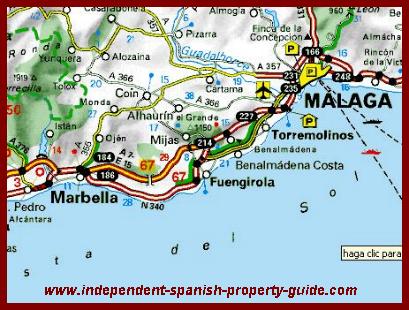 Click here or on the image to see the location of Fuengirola on the Via Michelin map.

FUENGIROLA PROPERTY VIEW:

Fuengirola is probably, together with some urbanisations in Mijas Costa, the cheapes place to purchase a property on the Costa del Sol. In comparison with other areas on the Costa del Sol, Fuengirola hardly has got any new developments on a front line beach location. Almost all first line beach apartments have been built in the last century.
GENERAL DESCRIPTION OF FUENGIROLA:

Fuengirola covers a very large area (Inhabitants: 62.915). The locals divide Fuengirola into the following smaller areas:



Fuengirola


Los Boliches


Mijas Pueblo


Carvajal


Torreblanca


Mijas Golf


El Coto


Los Pacos


Las lagunas


Cerros del Aguila


Sierrezuela

Situated on the coast down the hill from Mijas, Fuengirola has five miles of promenade. The promenade, called 'Rey de España' or 'King of Spain', offers a most pleasant walk next to the beach. With lots of beach bars along the way, you can enjoy a relaxing drink or sample the wide variety of seafood they have on offer. You can even watch the chef cook your food on a barbecue fire on the beach!

Fuengirola is the centre for all the activities available on the Costa del Sol. It is twenty minutes away from Málaga airport, twenty minutes from Marbella and Puerto Banus, ten minutes from Torremolinos/Benalmadena and one hour from Gibraltar.

There are many excellent places to spend your time in Fuengirola, it has one of the best open air zoos in Europe.There is the Sohail castle which lies at the west end of the promenade with its park and many festivals held within its ancient grounds. The flea market held on Saturday at the fair ground, is the largest of its kind in the area and will interest those who like local crafts, leather, jewellery and souvenirs. There is also the waterpark, which is an oasis of fun and of course don´t forget the five miles of sandy beaches Fuengirola has!
For the gamblers amongst you there is the Hippodromo, the Costa del Sol's race track, which has meetings every week and includes lots of entertainment around the course.

Nightlife is very diverse in Fuengirola, it has something for everyone. Eating out is a very important part of the nightlife in Fuengirola with its many different restaurants in the world famous fish alley! There are also many Spanish patios where you can meet up to relax on the Mediterranean evenings and many late night/early morning bars can be found all over town to enjoy for the young at heart.

Why not visit the port which incorporates a working fishing port and marina, there are many restaurants and bars to visit, fish and shellfish are very popular, boat trips, fishing trips and scuba diving are widely available.
There are four golf courses situated within a ten kilometre radius of Fuengirola: Miraflores golf, Mijas golf, Torrequebrada golf and La Cala golf.
Click here to see all the golf courses in Andalusia.

Virtual tours of Fuengirola.

Google Earth image of Fuengirola

Download google earth for free. Click on the image.





NEAREST AIRPORT: Málaga (is the closest to your Fuengirola property)

ARRIVING BY CAR:
*OUR RECOMMENDED RENT A CAR COMPANY IS HERTZ:
One of the most globally recognised travel brands, Hertz is the world's largest and longest established vehicle rental. A pioneer in car rental, Hertz invented the fly-drive concept and many initiatives since.

As testimony of its dedication to service, Hertz has won numerous awards around the world over the past, including the prestigious 2005 Readers Digest Award for most Trusted Car Hire brand in the UK.

Customer benefits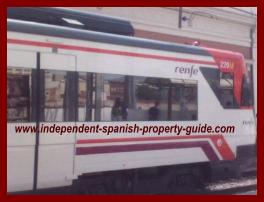 ARRIVING BY TRAIN:

You can get to your Fuengirola property by train. It starts at 05.44 and finishes at 22.44. Leaving every 14 and 44 minutes after the hour. The journey takes thirty three minutes, costs 1.75 € on work days and 1.85 € on Sundays and bank holidays.
ARRIVING BY BUS:

To get to your Fuengirola property by bus, you will have to walk 500 metres to the main road "Carretera de Cádiz". When you come out of the airport, bear right. If it is light, you may see the smoke coming out of the 'San Miguel' brewery chimney! Buses start at 06:15 and finish at 11:00 p.m., every 30 minutes. The direct bus number is 55 and the approximate price: 1.60 €.

This information is provided in good faith, but do not plan your journey around this timetable without checking the official bus website for exact times and prices before you travel! For more information you can telephone: 902 143 144 or look at the updated timetable and prices on the bus website.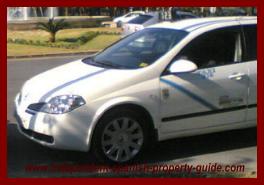 ARRIVING BY TAXI:

There are taxis right outside the door of the airport, ready to take you to your Fuengirola property. This is by far the most comfortable option.The prices are divided into two categories.
Category 1;
Work days between 6am and 10pm: approximately 0,9 Euros for every kilometre.
Category 2;
Between 10 pm and 6am, Saturdays, Sundays and bank holidays, the whole day; approximately 1,01 Euros every kilometre. A taxi should cost you approximately 25 Euros depending on the category and the exact area within Fuengirola.property
A taxi carries four passengers. Babies must use their own security baby chair, small children under 135cm. must use their own booster seat, and children under 140 cm must not sit in the front. Most Spanish taxi drivers will allow children without their own security chair, because if the police stop you on your journey, you pay the fine, not him!
If you want a book a taxi online with a private taxi company, click here.

THE WEATHER IN FUENGIROLA:




RECOMMENDED RESTAURANTS:
Click here.

This information is taken from the Spanish yellow pages. If you see a listing of 197 restaurants, at least you will have an idea of the size of the town, you are thinking of buying a property in, where as if you see a listing of two, think about buying some hens, as your Fuengirola property will be in a very remote place!

LOOK FOR BOOKS:


THINGS TO DO IN FUENGIROLA:

*Street market: Every Tuesday you can visit the largest and liveliest street market on the coast. The market is held on the fair grounds of Los Boliches.

* Fuengirola´s zoo
is situated only a ten minute walk away from the train and bus station in Fuengirola. Zoos aren't what they used to be. Fuengirola's new, visitor and animal-friendly zoo is an exception with a wide range of species from around the world maintained in a humane environment.

Telephone: 952 666 301
* There is a fantastic waterpark near Fuengirola called 'Aqualand'
This family friendly waterpark is very close to Fuengirola situated at the heart of the Costa del Sol. Open from May until September 10am-7pm. The park offers everything for a full day of sun and exciting water adventures. Great value. Telephone number: (0034) 952 370 199
Diving in Fuengirola

Fuengirola Diving Centre offers the full range of scuba diving courses, expeditions, training, information and more. They have scuba diving courses for all ages.

CHURCH SERVICES:

Church of england / Episcopal church:
Los Boliches: St. Andrews Edificio Jupiter, Avenida Padre Jesús Cautivo 74 (opp. railway line).
Sunday at 11.30, Wednesday 9 a.m.
Muslim:
Fuengirola: Mezquita del Centro Cultural Suhail, Parque Doña Sofía.
Friday worship 2.30 p.m.
Telephone 95 2473916.

Roman catholic:
Fuengirola: St. Joseph's Chapel, Las Rampas. Masses daily 11 a.m. Saturday Vigil 7 p.m.
Fuengirola: Lux Mundi, C/ Nueva. Roman Catholic mass in English every Sunday at 12 noon.
Los Boliches: St. Andrew's Chapel. Edif. Jupiter, Avda. Jesús Santos Rein. Mass in English 5.45 every Saturday.

Jehovah´s witnesses:
Fuengirola: Kingdom Hall C/Núñez de Balboa, s/n, block 1.
Tuesday 7.30 p.m., Sunday 11 a.m., Thursday 7.30 p.m.
Telephone: 95 2469082.

Evangelical church / baptist church:
Los Boliches: Evangelical Church, at the Skandinaviska Turistkyrkan, Promenade.
English services Sundays Communion and Breaking of Bread 2.45 p.m. Worship and Bible teaching 4 p.m.
Wednesdays Praise, Prayer, Bible study 7.30 p.m.
Telephone 95 2448763 or 95 2460728.

Fuengirola: Ark Christian Fellowship,
Sunday 11 a.m. meeting in Las Rampas, Fuengirola.
Sunday school, various weekly meetings.
Telephone 95 2582518 or 907 959227.

Church of scotland (presbyterian):
Fuengirola: Worship and Sunday School 10.30 a.m.
Lux Mundi, C/Nueva.
Bible Study Thursdays at the Manse 7 p.m.
Minister: Reverend John Shedden, CBE, BD 95 2582836 (Manse).

Dutch Evangelical:
Fuengirola: In the Skandinaviska Turistkyran.
Edificio M del Carmen. Paseo Marítimo 77
Los Boliches, Sundays 9.30 a.m.

Fuengirola: 10.15 a.m. Sundays
Calle Rueda s/n (by the N340), Fuengirola
Telephone 95 2469392 or 95 2463091 weekends.

Bahai:
Fuengirola: C/Jaen 1, Edificio don Elías, 1, 1-J, Los Boliches.
Telephone 95 2466467 (8 to 10 p.m.)

LOCAL MARKET DAYS IN FUENGIROLA:

Tuesday.
Saturday (Flee market) Both at the fair ground.
USEFUL TELEPHONE NUMBERS FOR YOUR STAY IN FUENGIROLA:
PROPERTY
Radio Taxis Fuengirola.
(*Remember the telephonists don't normally speak very good English so limit the conversation to telling her clearly where you are!)
Address:
Calle Molino de Viento, 3.
Telephone: 95 247 10 00
Police 091 (free phone)
Local Police 95 258 93 24 (not always very good at English!)

Ambulance 061 (free phone)
First Aid/Emergency 95 246 88 35 (local phone call)
(night time, holidays) 95 246 86 53 (local phone call)

Sea rescue 900 202 202 (free phone)

Emergency operator 112 Fire, ambulance or police (free phone)

Crime report (English speaking) 902 102 112 (local phone call)
(for tourists and Fuengirola property owners alike)

Fire Brigade: (080 free call) 95 246 10 46 (local phone call)

Fuengirola municipal tourist office: 95 246 76 25 (local phone call)
(for tourists and Fuengirola property owners alike)

Bus Station: 95 247 50 66 (local phone call)

Foreign Residents Department: 95 258 93 78
(for tourists and Fuengirola property owners alike)

Town Hall: 95 258 93 00
(for tourists and Fuengirola property owners alike)

Consumers' Office: 95 258 29 11 (local phone call)
(for tourists and Fuengirola property owners alike)

British Consulate in Málaga
Address: Calle Mauricio Moro Pareto Number 2 - 2nd floor
Telephone number: 95 235 23 00

If you have anything else about Fuengirola to add to this page, photographs, stories etc. write ahead!
Contributions
Do you have an interesting addition? Share it with us! Your comments will appear on a webpage just like this one.
Other Visitors Comments
Click below to see contributions from other visitors to this page...

Saint Andrews church Los Boliches Fuengirola

My partner Trevor and myself came to Los Pacos in 2008 and found St Andrew's Church in Los Boliches and we liked it very much, and got involved with the …
Sign up to our Newsletter to get the latest news on Spain - in English.