Calahonda AREA GUIDE
Before I start if you have anything to tell me about Calahonda, have some nice photographs, or would like to tell us your story, write here!
If you would like to subscribe to our newsletter for Spanish news in English, click here.
Well lets start! Here you can find out everything you ever need to know about Calahonda!
Quick view of what is included on this page:

Map of location.

Property view.

General description.

Golf.

Google earth image.

Google earth free download.

Nearest airport.

Arriving by car; including recommendation for the best rent a car agency.

Arriving by train; including times and prices.

Arriving by bus; including times and prices.

Arriving by taxi; including laws regarding passengers, location of taxi stand and prices.

Weather.

Webcams.

Recommended restaurants.

Look for books at Amazon's online shop.

Local services.

Things to do.

Church services.

Local market days.

Useful phone numbers.

Contact us if you have anything to add to this page.
---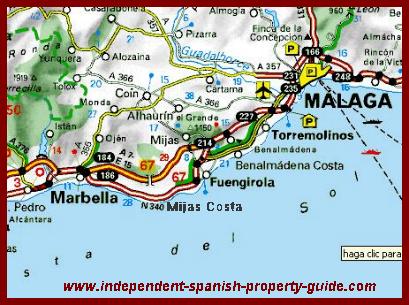 Click here or on the image to see the location of Calahonda on the Via Michelin map.
CALAHONDA PROPERTY VIEW:

Calahonda is, from a real estate point of view, a very interesting area. The big property boom of the last few years has had a big effect on this region. Lots of new developments have been built here. Though some might say that, due to the many new buildings Calahonda lacks character, the best bargains can be found on this stretch of coast! The most expensive place to buy a property is in the centre of La Cala.
GENERAL DESCRIPTION OF CALAHONDA:
Calahonda is a small area belonging to Mijas-Costa. It is east of Marbella and situated almost in the middle of Marbella and Fuengirola. It has easy access via the motorway making travel easy to anywhere on the Costa del Sol. Malaga's international airport is 25 minutes away and Marbella's large shopping centre can be reached in just 15 minutes.
The urbanisation extends gently from the coast up to the undulating hills 300 metres above sea level, offering fantastic views of the surrounding countryside running down to the sea, and along the coastline to Gibraltar and Africa. The atlas mountains and African coastline are often clearly visible.
Calahonda can surely claim to be one of the finest developments along the Costa del Sol. Since its foundation in 1963 'Sitio de Calahonda' has won several awards including an international award for the best Spanish urbanisation in the year 2000-2001, the 'Resident Tourism Award' organized by the Mijas town hall in 1986, and the 'Barclays Bank' award for the best developer on the Costa del Sol.
With its superb position, Calahonda benefits from well run administrative services, financial stability, over sixty hectares of green zones that have been replanted with pine trees, parks, interior and exterior communications, analogue and broadband telephone lines.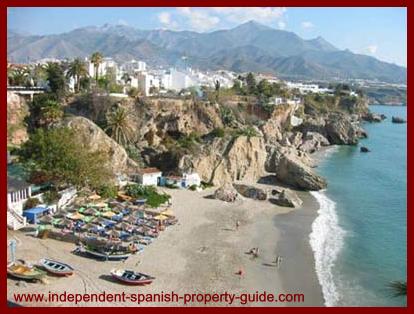 Golf courses in Calahonda include;

Club de Golf La Siesta with 9 holes, practise range, putting green, chipping green, paddle tennis, restaurants and bar.
Cabopino golf built in 2001; situated a few metres away from the N-340. Pay and play with 18 holes par 71, which covers an area of 5,170 m² and designed by Juan Ligues Creus.
Within 5 minutes by car are, Artola golf, Santa Maria golf [Elviria], Miraflores golf, (Riviera del Sol) and La Cala golf.

Calahonda has is own harbour, Puerto Cabopino where you can practice lots of nautical sports and activities; sailing, wind surfing, parasending, kite surfing, boat trips, dolphin watching and skin diving.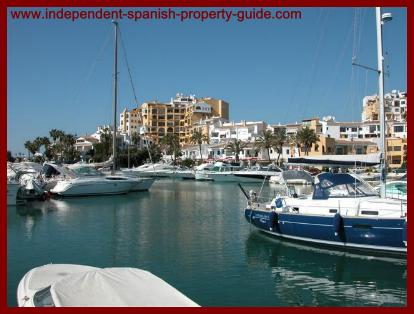 Puerto de Cabopino offers 170 berths for small and medium size vessels and has many excellent restaurants from most corners of the world.

The beaches stretch from Puerto Cabopino to Calahonda. From the west you can walk all the way along the beach to Marbella, passing the Artola dunes (a protected national park) with its restored moorish lookout tower.
Google Earth image.

Download google earth for free. Click on the image.





NEAREST AIRPORT: Málaga
ARRIVING BY CAR:

You will have no trouble getting to Calahonda by car, as Málaga airport is linked with the city and the rest of the towns on the Costa del Sol via the E-15 and the N-340 motorways.

Detailed map and instructions from Málaga airport to 'Sitio_de_Calahonda':

*RECOMMENDED RENT A CAR COMPANY: Travel Autos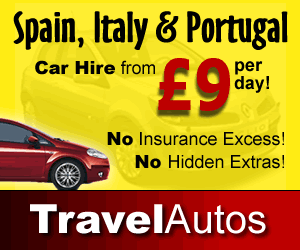 'Travel Autos' is an independent rental car company, established in 2000. Travel Autos provide fully inclusive car rental in over one hundred Spanish locations. The prices include everything, full insurance, additional driver(s), unlimited mileage and all taxes. There is no insurance excess and no hidden extras! For more information, list of locations, and a discount.

For more information, list of locations, and a discount, click on the pic!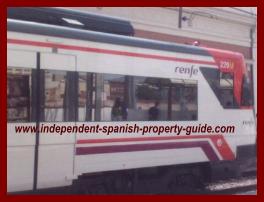 ARRIVING BY TRAIN:

We do not recommend taking the train to Calahonda. The train tracks stop at Fuengirola, so you would have to continue your journey by bus, train or taxi. However if you do take the train to Fuengirola station, the bus station is very close by, (50 metres). Continue your journey as detailed below on the bus number 220.

ARRIVING BY BUS:

You will have to get two buses to Calahonda . You will have to walk 500 metres to the main road "Carretera de Cádiz". When you come out of the airport, bear right. If it is light, you may see the smoke coming out of the 'San Miguel' brewery chimney! Buses start at 06:15 and finish at 11:00 p.m., every 30 minutes. The direct bus number to Fuengirola is 55 and the approximate price: 1.60 €. From the Fuengirola bus-station, take the number 220 to Calahonda. Approximate cost up to Calahonda: 1.05€ (1.20€ after that).

This information is provided in good faith, but do not plan your journey around this timetable without checking the official bus website for exact times and prices before you travel! For more information you can telephone: 902 143 144 or look at the updated timetable and prices on the bus website.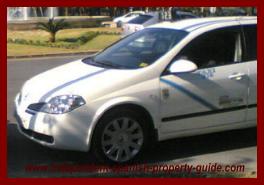 ARRIVING BY TAXI:

There are taxis right outside the door of the airport. This is by far the most comfortable option.The prices are divided into two categories.
Category 1;
Work days between 6am and 10pm: approximately 0,9 Euros for every kilometre.
Category 2;
Between 10 pm and 6am, Saturdays, Sundays and bank holidays, the whole day; approximately 1,01 Euros every kilometre. A taxi should cost you approximately 40 Euros depending on the category and the exact area.property
A taxi carries four passengers. Babies must use their own security baby chair, small children under 135cm must use their own booster seat, and children under 140 cm must not sit in the front. Most Spanish taxi drivers will allow children without their own security chair, because if the police stop you on your journey, you pay the fine, not him!
If you want a book a taxi online with a private taxi company, click here.

WEBCAMS:
Click here.

RECOMMENDED RESTAURANTS:
Click here.

This information is taken from the Spanish yellow pages. If you see a listing of 78 restaurants, at least you will have an idea of the size of the town, you are thinking of buying a property in, where as if you see a listing of two, think about buying some hens, as you will be living a remote place!

LOOK FOR BOOKS:


LOCAL SERVICES INCLUDE:



Telephone communications within the urbanisation are achieved through a fibre optic network.


Twenty eight kilometres of well maintained roads.


Thirty electricity transformers have been installed since 1963.


Puerto Cabopino offers 170 berths for small and medium size vessels.


Three medical centres open 24 hours


Three commercial centres with shops: decoration, sports, souvenirs, hairdresser, hardware, etc.


Banks: Solbank, BBVA, Atlantico, La Caixa, Barclays, Santander and Deutsche Bank.


Restaurants, pubs, coffee houses and several supermarkets.


One nine hole golf course inside the urbanization, three under construction, six under project and five finished in a radius of ten Kilometres.


Lawyers, economists and lots of professional services on offer.


Nursery.


Language school.


Rent a car and garage.


Travel agency.


Maintenance and rental offices.


Security guards 24 hours.


Post office.


Three public parks.


Tennis courts.


Riding club.


A Tourist train travels through the urbanization.


Two chemists.
THINGS TO DO IN CALAHONDA:

Cabopino port:

Though Cabopino port is officially located in Marbella, it is only a short walk from Calahonda. Cabopino port is a pituresque fishing and leisure port and one of the smallest on the coast. Beach bars with barbecue areas where freshly caught fish is cooked is a speciality at Puerto Cabopino. A good range of specialised restaurants are to be found and there is also a typical Spanish square or 'Plaza' with a variety of bars.

There is a fantastic water park closeby.


You can visit the waterpark from the end of April until the beginning of October. Children up to 3 go in free. Children from 4-12 pay 9,50 € and adults page 14,50 €. There is a special family price of 38,50 € for a family of two adults and two children. There are not just water attractions in there either, they have a mini golf, rock-climbing, a games arcade, a picnic area, gift shop and buffet restaurant. I normally take my own food though.

There is a reserved water slide area for smaller children. In the photograph you can see my daughter waiting to go in, on our visit this summer!
CHURCH SERVICES:

Church of england / Episcopal church:
Calahonda: Ermita de San Miguel, 9.45 a.m., second and fourth Sundays; Morning prayer first and third; Sunday school 9.45 a.m. every Sunday.

Roman catholic:
Calahonda: La Ermita de San Miguel church,
Sitio de Calahonda. 12.00 Sunday.

Evangelical church:
Calahonda: The Evangelical Christian Fellowship, Sunday 4.30 p.m., Ermita San Miguel. Several weekly meetings in Calahonda and Fuengirola. Reverend Peter Riggall, 952 467394, email: fef@tele1.org

Baptist church:
Calahonda: Baptist Church, above Holiday Car Hire, near Catholic church. Family service, Sunday School 11. Weekly meetings. Reverend Don Spence 95 293 0458.

LOCAL MARKET DAYS IN THE MIJAS-COSTA AREA:

La Cala - Wednesday morning.
La Cala II - Saturday morning.
Las Lagunas - Saturday morning (on the Calahonda Golf road).
USEFUL TELEPHONE NUMBERS FOR YOUR STAY IN CALAHONDA:

Radio Taxis.
(*Remember the telephonists don't normally speak very good English so limit the conversation to telling her clearly where you are!)
Address: Calle San Cristóbal, number 8. Mijas Costa.
Telephone number: 952 47 65 93

Police 091 (free phone)

Ambulance 061 (free phone)

Sea rescue 900 202 202 (free phone)

Emergency operator 112 Fire, ambulance or police (free phone)

Crime report (English speaking) 902 102 112 (local phone call)

Fire Brigade 95 246 10 46 (local phone call)

Closest Guardia Civil police station (Traffic Police - green uniform)
95 248 50 18 (local phone call)

Town Hall 95 247 31 25 (local phone call)

Town Hall & Foreign Residents Department 95 283 53 91 (local phone call)

Consumers' Office 95 258 29 11 (local phone call)

British Consulate in Málaga
Address: Calle Mauricio Moro Pareto, Number 2 - 2nd floor
Telephone number: 95 235 23 00
RELATED LINKS:

The history of Calahonda and a photograph album.
Mijas-Costa area guide.

If you have anything else about Calahonda to add to this page, would like to tell us your story or have some nice photographs, write ahead!
Contributions
Do you have an interesting addition? Share it with us! Your comments will appear on a webpage just like this one.
Sign up for our FREE newsletter about Spain in English