COMPLETE Estepona
property


AREA GUIDE

Before I start if you have anything to tell about Estepona, have some nice photographs, (a webcam live view - would be nice!) or would like to tell us your story, write here!

If you would like to subscribe to our newsletter for Spanish news in English, click here.

Well lets start! Here you can find out what Estepona has to offer and if the area is suitable for you, before you make any decisions to move there.

Quick view of what is included on this page:

Map of the location of Estepona.

Estepona property view.

General description of Estepona.

Estepona golf

Google earth image of Estepona.

Google earth free download.

Virtual tours of Estepona.

Nearest airports.

Arriving by car; including recommendation for the best rent a car agency.

Arriving by train; including times and prices.

Arriving by bus; including times and prices.

Arriving by taxi; including laws regarding passengers, location of taxi stand and prices.

Weather in Estepona.

Photo gallery of Estepona.

Recommended restaurants in Estepona.

Look for books about Estepona at Amazon's online shop.

Things to do in Estepona.

Church services in Estepona.

Local market days in Estepona.

Useful phone numbers.

Contact us if you have anything to add about Estepona.
----------------------------------------------------------------
Click here to see the location of Estepona on the Via Michelin map.

ESTEPONA PROPERTY VIEW:

Estepona is probably the cheapest and less developed area to buy a property on the Costa del Sol. Though thousands of properties are currently under construction, Estepona is still a Spanish-orientated place without the enormous amounts of tourists and foreign property owners that can be found in most other places on the Costa del Sol. If you want to take advantage of the current property-boom in Estepona, be quick!

This is the moment to jump in! Most sought after resort in the Estepona area: Sotogrande.

GENERAL DESCRIPTION OF ESTEPONA:

Estepona covers a very large area (51.000 inhabitants). The locals divide Estepona into the following smaller areas:

Benahavis


Bel Air


Estepona


Casares


Sabanillas


Manilva


Duquesa


Sotogrande


Alcaidesa

The whole area of Estepona has 51.000 inhabitants and is situated on the west-side of San Pedro. It has easy access via the motorway making travel easy to anywhere on the Costa del Sol. Malaga's international airport is an hour away and Gibraltar can be reached in less than thirty minutes.
The coastline of Estepona is more than 20 kilometres long and all sorts of watersports can be practiced.

The main sources of wealth have traditionally been agriculture, fishing and cattle farming. These activities have maintained their importance so far but undoubtedly tourism is now the major factor that drives local economy.
A wonderful climate, well looked after beach resorts and a wide range of attractions including golf courses, ports and excellent restaurants and bars are just some of the reasons why thousands of tourists choose Estepona as their holiday destination or as their second home in Spain.

Sports are easily mixed with the Estepona lifestyle. For starters, there are almost ten golf courses within the Estepona area. Estepona property owners and Estepona golf lovers view the Costa del Sol as an international meeting point. The fantastic spring weather all year round, the variety of accommodation and amenities available, together with the quality of the many golf courses, convert the Costa del Sol into the Costa del golf.
See our property golf course page.

Virtual tours of Estepona.

Google Earth image of Estepona.

Download google earth for free. Click on the image.





NEAREST AIRPORTS: Gibraltar and Málaga

ARRIVING BY CAR:
*OUR RECOMMENDED RENT A CAR COMPANY IS HERTZ:
One of the most globally recognised travel brands, Hertz is the world's largest and longest established vehicle rental. A pioneer in car rental, Hertz invented the fly-drive concept and many initiatives since.

As testimony of its dedication to service, Hertz has won numerous awards around the world over the past, including the prestigious 2005 Readers Digest Award for most Trusted Car Hire brand in the UK.

Customer benefits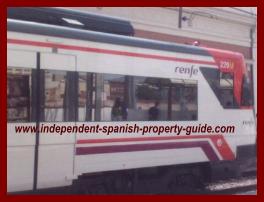 ARRIVING BY TRAIN:


We do not recommend taking the train to your Estepona property. The train tracks stop at Fuengirola, so you would have to continue your journey by bus, train or taxi.

ARRIVING BY BUS:

There is no direct bus to Estepona. You must take two.

To get to your Estepona property by bus, you must first take the Marbella-Airport line, and then from the Marbella Station, take the number 27 bus to Estepona. Bus-stops can be found at the Terminal 1 arrivals and Terminal 2, departures.
Timetable: 06:15, 8.00, 10.00, 12.00, 13.45, 15.45, 17.30, 19.30, 21.30, 23.00. The journey takes approximately 45 minutes. Price: 3,92 €.
The second bus, number 27 leaves frequently, and costs 2,38€
This information is provided in good faith, but do not plan your journey around this timetable without checking the official bus website for exact times and prices before you travel! For more information you can telephone: 902 143 144 or look at the updated timetable and prices on the bus website.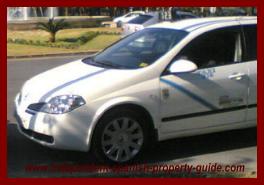 ARRIVING BY TAXI:

There are taxis right outside the door of the airport, ready to take you to your Estepona property. This is by far the most comfortable option.The prices are divided into two categories.
Category 1;
Work days between 6am and 10pm: approximately 0,9 Euros for every kilometre.
Category 2;
Between 10 pm and 6am, Saturdays, Sundays and bank holidays, the whole day; approximately 1,01 Euros every kilometre. A taxi should cost you approximately 80 Euros depending on the category and the exact area within Estepona.
A taxi carries four passengers. Babies must use their own security baby chair, small children under 135cm. must use their own booster seat, and children under 140 cm must not sit in the front. Most Spanish taxi drivers will allow children without their own security chair, because if the police stop you on your journey, you pay the fine, not him!
If you want a book a taxi online with a private taxi company, click here.

THE WEATHER IN ESTEPONA: (This may affect your Estepona property chose!)



PHOTO ALBUM OF ESTEPONA:

Photographs provided by the Estepona town hall.

RECOMMENDED RESTAURANTS:
Click here.

This information is taken from the Spanish yellow pages. If you see a listing of 159 restaurants, at least you will have an idea of the size of the town, you are thinking of buying a property in, where as if you see a listing of two, think about buying some hens, as your Estepona property will be in a very remote place!

LOOK FOR BOOKS:


THINGS TO DO IN ESTEPONA:

* The port of Estepona is only 5 minutes away from the town centre. It is a real delight to stroll around the area. Try one of the many international restaurants!ap
artment.
* There is a fantastic adventure safari park called Selwo Aventura in Estepona.

You'll see elephants, lions, wolves, bison, camels, ostriches, hippopotami and hundreds of other animals gathered together from all five continents. Explore this 100 hectar park along routes through valleys on foot and in four-wheel-drive vehicles. Experience three different zones that reproduce the habitats these animals come from with all your senses on the alert!
To get here, drive along the Costa del Sol motorway and turn off at the exit marked Km 162.5.
Estepona property guide to Selwo
SELWO AVENTURA
Autovía Costa del Sol, km 162,5
Las Lomas del Monte s/n
29680 Estepona - MÁLAGA
Telephone: 902 19 04 82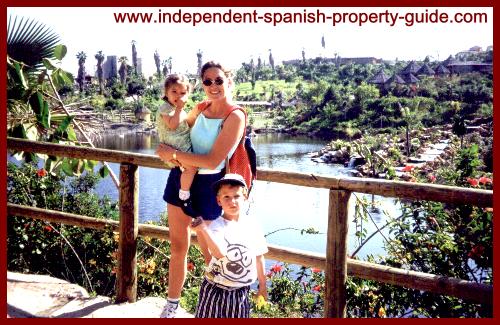 *Daytrip to Gibraltar. Visit 'the rock' to see the monkeys, caves, siege tunnels and old-fashioned English bobbies! Don´t forget to buy your duty free goods!

CHURCH SERVICES:

Church of england / Episcopal church:
Costa del Sol: Sotogrande, Marbella, San Pedro, Gaucín, Estepona. Canon Michael Fisher, tel. 952 808 605.

Marbella/San Pedro/Estepona: Capilla de la Inmaculada (The White Chapel), Guadalmina (Baja). Parish Communion 1st & 3rd Sundays, Morning Prayer 2nd & 4th Sundays, 11.30 a.m.

Sotogrande: Old School Chapel near Paniagua: 2nd and 4th Sundays, Parish communion 11.30 a.m (1st & 3rd Sundays, see Methodist services).

Methodist church:
Gibraltar: Methodist Church,
297 Main Street.
Sunday services 11 a.m. and 7 p.m.

Midweek Fellowships. Telephone (9567) 77491/408 for details. Reverend Wilf Pearce. Assistant Reverend Fidel Patron.
Carpenters' Arms Café Mon-Fri, 09.30 - 14.00.

Sotogrande: Old School Chapel near Paniagua, first and third Sundays 11.30a.m., contact churchwarden Telephone: (9567) 95062.

Evangelical church / baptist church:
La Línea: Asambleas de Dios. C/San José, 41. Every Thursday at 9 p.m. Sundays at 11 a.m. & 8 p.m.

Gibraltar: Minister Francis Baldachino. Bretheren Assembly,
Queensway Quay.
Sunday 11 a.m.
Tuesday Bible Study 6 p.m.
Thursday Prayer Meeting 6 p.m.

Church of scotland (presbyterian):
Gibraltar: St. Andrew's Church, Governor's Parade.
Minister Reverend Stewart Lamont.
Telephone: (9567) 77040.
Worship and Sunday School 10.30 a.m.
Bible Study - Tuesdays 7.30 p.m.

Dutch Evangelical:
La Línea de la Concepción: Calle Isabel la Católica Number 43.
Telephone: (956) 170733.
Sundays 10.30 a.m.

Gibraltar: Sundays 10 a.m.
Suite 21a, Don House, 30-38 Main Street.
Telephone: (9567) 50433.

Bahai:
Gibraltar: For meetings phone contacts on (9567) 43637 or (9567) 73287.

LOCAL MARKET DAYS IN ESTEPONA:

Wednesday: Fair ground.
Sunday: Estepona port.
USEFUL TELEPHONE NUMBERS FOR YOUR STAY IN ESTEPONA:
PROPERTY
Radio Taxis Estepona.
(*Remember the telephonists don't normally speak very good English so limit the conversation to telling her clearly where you are!)
Telephone: 95 280 29 00

Police 091 (free phone)

Ambulance 061 (free phone)

Sea rescue 900 202 202 (free phone)

Emergency operator 112 Fire, ambulance or police (free phone)

Local fire brigade 95 279 21 21 (local phone call)

Crime report (English speaking) (for tourists and Estepona property owners alike)
902 102 112 (local phone call)

Bus station 95 280 29 54 (local phone call)

Town Hall: 95 280 11 00 (local phone call)
Foreign residents department: 95 280 20 02 (local phone call - for tourists and Estepona property owners alike)

Municipal tourist office: 95 280 09 13 (for tourists and Estepona property owners alike - local phone call)
British Consulate in Málaga
Address: Calle Mauricio Moro Pareto Number 2 - 2nd floor
Telephone number: 95 235 23 00

If you have anything else about Estepona to add to this page, (a webcam would be nice!) or would like to tell us your story , write ahead!
Contributions
Do you have an interesting addition? Share it with us! Your comments will appear on a webpage just like this one.
Sign up to our Newsletter to get the latest news on Spain - in English;