COMPLETE Torremolinos
property


AREA GUIDE

Before you invest in a Torremolinos property, read this area guide and property view to find out what Torremolinos has to offer and if the area is suitable for you, before you make any decisions.

Quick view of what is included on this page:

Map of the location of Torremolinos.

Torremolinos property view.

General description of Torremolinos.

Torremolinos golf

Google earth image of Torremolinos.

Google earth free download.

Virtual tours of Torremolinos.

Nearest airport.

Arriving by car; including recommendation for the best rent a car agency.

Arriving by train; including times and prices.

Arriving by bus; including times and prices.

Arriving by taxi; including laws regarding passengers, location of taxi stand and prices.

Weather in Torremolinos.

Webcams in Torremolinos.

Recommended restaurants in Torremolinos.

Look for books about Torremolinos at Amazon's online shop.

Things to do in Torremolinos.

Church services in Torremolinos.

Local market days in Torremolinos.

Useful phone numbers.

Contact us if you have anything to add about Torremolinos.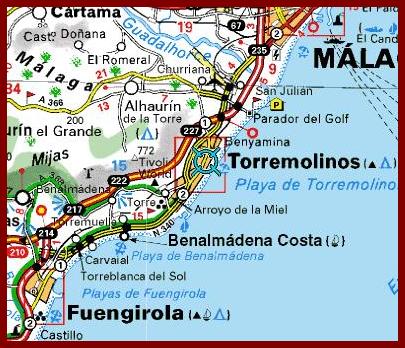 Click here or on the image
to see the location of Torremolinos on the Via Michelin map
TORREMOLINOS PROPERTY VIEW:

Torremolinos is, from a real estate point of view, a very interesting area. It has developed enormously over the last few years. The local council have invested lots of money in a new seafront promenade, the planting of more then a thousand species of trees, shrubs and flowers that has all added to the beauty and value of Torremolinos. The promenade now stretches from Malaga to Benalmádena . All of these changes have had their effect on Torremolinos property prices, which have been increasing heavily, propably more then in other places on the Costa del Sol. Most sought after areas for Torremolinos property purchasers: La Carihuela and Montemar.

Torremolinos covers a very large area (55.479 inhabitants). The locals divide Torremolinos into the following smaller areas:

Town centre Torremolinos property


Playamar


La Carihuela


Montemar


El Pinillo


La Colina
Anyone who has been travelling to the Costa del Sol for many years knows that Torremolinos was the small fishing village that led the tourist boom in the late fifties and sixties. Now, it has become one of the biggest resorts on the coast and is regarded as the south coast's equivalent of Benidorm, so if you are looking for a cultural experience this is not the place for you.

If you like to party then Torremolinos is definately the place for you!! There are not many towns along the Costa del Sol that have more bars, restaurants and nightclubs (including a large gay community) with 70% of its visitors coming from the UK, there is virtually no language barrier. Less than ten minutes from Malaga Airport it is one of the most accessible resorts along the coast.

There are two main beaches in Torremolinos. Both long and sandy and with lots of beach activities including para-gliding, water-skiing and banana boats plus plenty of beach bars and restaurants to choose from, there is always something to do while you soak up the mediterranean sun. If you fancy getting wet in a different way you can try the waterpark on the outskirts of town.

The heart of the town is the pedestrianised area known as 'Calle San Miguel' which is packed with shops and boutiques selling all kinds of products for all you shop-aholics out there!!! At the height of the season this area is packed with people and is a hive of activity. During the summer, the townhall hosts an unlimited number of events including music festivals, dance and jazz as well as volleyball and football competitions.

The local council has heavily invested in Torremolinos over the last few years, including a new seafront promenade which stretches all the way to the neighbouring resort of Benalmadena and more than a thousand species of trees, shrubs and flowers have been planted around the town in public gardens providing a welcome reprieve from the surrounding hustle and bustle of bar and beach life. Torremolinos is, with its beaches, nightclubs, bars, restaurants and shops, not for the culture seekers, but more of a fun packed holiday. Torremolinos is one of the best spots on the Costa del Sol.

Torremolinos does not have any golf courses. For information on golf courses close to Torremolinos, see our property golf course page.

Virtual tours of Torremolinos.

Google Earth image of Torremolinos

Download google earth for free. Click on the image.




NEAREST AIRPORT: Málaga

ARRIVING BY CAR:
*OUR RECOMMENDED RENT A CAR COMPANY IS HERTZ:
One of the most globally recognised travel brands, Hertz is the world's largest and longest established vehicle rental. A pioneer in car rental, Hertz invented the fly-drive concept and many initiatives since.

As testimony of its dedication to service, Hertz has won numerous awards around the world over the past, including the prestigious 2005 Readers Digest Award for most Trusted Car Hire brand in the UK.

Customer benefits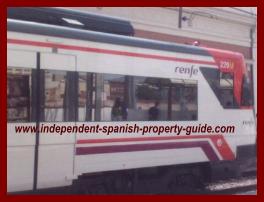 ARRIVING BY TRAIN:

You can get to your Torremolinos property by train. It starts at 05.44 and finishes at 22.44. Leaving every 14 and 44 minutes after the hour. The journey takes ten minutes, and costs 1.10€ on work days and 1.20€ on Sundays and bank holidays.


ARRIVING BY BUS:

To get to your Torremolinos property by bus, you will have to walk 500 metres to the main road "Carretera de Cádiz". When you come out of the airport, bear right. If it is light, you may see the smoke coming out of the 'San Miguel' brewery chimney! Buses start at 06:15 and finish at 11:00 p.m., every 30 minutes. The bus number is 110 and the approximate price: 1.05€.

This information is provided in good faith, but do not plan your journey around this timetable without checking the official bus website for exact times and prices before you travel! For more information you can telephone: 902 143 144 or look at the updated timetable and prices on the bus website.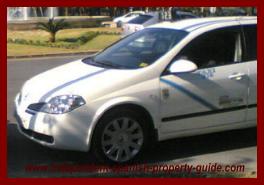 ARRIVING BY TAXI:

There are taxis right outside the door of the airport, ready to take you to your Torremolinos property. This is by far the most comfortable option.The prices are divided into two categories.
Category 1;
Work days between 6am and 10pm: approximately 0,9 Euros for every kilometre.
Category 2;
Between 10 pm and 6am, Saturdays, Sundays and bank holidays, the whole day; approximately 1,01 Euros every kilometre. A taxi should cost you approximately 10 Euros depending on the category and the exact area within Torremolinos.
A taxi carries four passengers. Babies must use their own security baby chair, small children under 135cm must use their own booster seat, and children under 140 cm must not sit in the front. Most Spanish taxi drivers will allow children without their own security chair, because if the police stop you on your journey, you pay the fine, not him!
If you want a book a taxi online with a private taxi company, click here.
WEBCAMS IN TORREMOLINOS:
Click here.

RECOMMENDED RESTAURANTS:
Click here.

This information is taken from the Spanish yellow pages. If you see a listing of 186 restaurants, at least you will have an idea of the size of the town you are thinking of buying a property in, where as if you see a listing of two, think about buying some hens, as your Torremolinos property will be in a very remote place!

LOOK FOR BOOKS:


THINGS TO DO IN TORREMOLINOS:

*Calle San Miquel – a pleasant, though touristy street lined with shops, bars and cafes.
* There is a fantastic waterpark in Torremolinos called 'Aqualand'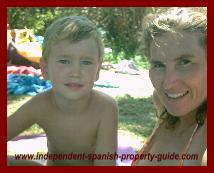 Typical family fun with more than thirty rides, including the blood-curdling 'Kamikaze' chute or very high water slide-tube. Reserved water slide area for younger children.
I normally take my own picnic, but you can eat in the restaurant. The park is open from May until September, 10am-7pm.
Telephone number: (0034) 952 370 199
*Crocodile park - A fortress built like an old African empire, welcomes you to Crocodile park. You can see more than 300 crocodiles at just two metres away from you! Babies, caimans and big Nile crocodiles 5 metres long and more than 500 kilos. There are guided tours and live feeding demonstrations. You can sit in the snack bar, close to a massive model of a crocodiles head. There is an African museum where you can find out about the Saurian tribe, their history, biology, habitat and customs - past and present. You will also admire an incredible collection of Zulues, himbas, bushmen and masai tools. A reserved area for exotic birds living in the park, a cinema room where you can see and comment unique documentaries about crocodiles life and a mini-zoo where you can see 'Skippy' the kangaroo, west African dwarf goats, racoons and an emu.
Aaaarh! and don't forget your camera because at the end of the visit you get to hold a baby crocodile with it's mouth celotaped up of course! Telphone number: (0034) 952 051 782

CHURCH SERVICES:

Roman catholic:
La Carihuela: Fisherman's Church. Mass on Sunday from January 9th, 17.45

Jehovah´s witnesses:
Torremolinos: Avenida Sorolla, Edificio Apolo, planta baja, local 1. Sunday 11.30 a.m., Wednesday 7.30 p.m. Telephone 952 051 571.

Evangelical church / baptist church:
Torremolinos: Evangelical Community Church. Sunday service & Sunday School 11 a.m., various weekly meetings.
Calle Gregorio Marañón 4.
Telephone number: 952 622 680.

Dutch Evangelical:
Torremolinos: Sunday 11.30 in Holland Huis. Edificio Number One. Avenida de Montemar, 10-A opposite Hotel Las Palomas.

Synagogue:
Torremolinos: Beth Minzi, 16, La Roca (almost opp. police station), Saturdays and holidays, 9.30 a.m., Friday in summer 8.30 p.m.,
winter 6.30 p.m.

LOCAL MARKET DAYS IN TORREMOLINOS:

Thursday morning. Great for bargain hunting for your Torremolinos property
Sunday morning (flee market) Both markets near the bullring.
USEFUL TELEPHONE NUMBERS FOR YOUR STAY IN TORREMOLINOS:
PROPERTY
ATAT Radio Taxis Torremolinos.
(*Remember the telephonists don't normally speak very good English so limit the conversation to telling her clearly where you are!)
Address: Avenida Palma de Mallorca, Edificio (building number) 340.
Telephone numbers: 952 38 06 00 / 952 38 27 44

Police 091 (free phone)

Ambulance 061 (free phone)

Sea rescue 900 202 202 (free phone)

Emergency operator 112 Fire, ambulance or police (free phone)

Crime report (English speaking) (for tourists and Torremolinos property owners alike)
902 102 112 (local phone call)

Fire Brigade 95 238 39 39 (local phone call)

Torremolinos municipal tourist office: 95 237 95 51 (local phone call)

Bus Station 95 238 24 19 (local phone call)

Town Hall & Foreign Residents Department (for tourists and Torremolinos property owners alike)
95 237 94 00

Consumers' Office (for tourists and Torremolinos property owners alike)
95 258 29 11 (local phone call)

British Consulate in Málaga
Address: Calle Mauricio Moro Pareto Number 2 - 2nd floor
Telephone number: 95 235 23 00

If you have anything else about Torremolinos to add to this page, any photographs or a story to tell, then write ahead!
Contributions
Do you have an interesting addition? Share it with us! Your comments will appear on a webpage just like this one.
Sign up to our Newsletter to get the latest news on Spain - in English;