Tax in Morocco


The Moroccan Government has removed all impediments to foreign land and property ownership and is courting property investors with extremely favourable tax laws. The first 5 years of rental income is completely exempt from tax. Capital gains tax is payable on a sliding scale:
20% of the net profit if you sell within the first 8 years.
Exempt if you hold the principal property for 8 years.
0% income from rent for 5 years for non-resident.
0% Urban tax; 0% garbage collection for 5 years.
There is no inheritance tax on properties passed on to family members.
Proceeds of property sales can be fully repatriated.
What taxes should I be aware of?

Garbage Collection Tax – There is a 5 years exemption from the garbage collection tax, after this period tax is charged at 10% of the property's annual rental value.
Capital Gains Tax – Capital gains tax is charged at 20% of profit with a minimum of 3% of the sales price if the property is sold within 5 years.
If the property is sold before 10 years, capital gains is charged at 10% and 0% after 10 years.
Capital gains tax is based on the sale price less the purchase price.
Inheritance Tax - There is 0% inheritance tax for family members providing they have a Moroccan will, but it is essential that you make a Moroccan legal will and seek professional tax advice.
The UK and Morocco share a double tax treaty that ensures investors do not suffer Capital Gains tax in both countries.
What is the tax issue on rental Income?

Investors from UK looking to operate a 'Buy to let' strategy with their Morocco based property investment will be required to pay tax on this generated income. Investors can be exempt from paying tax for the first 3 years but there after would be required to pay tax on 60% of their generated income at between 22% and 44%
Is there any thing else I need to know about tax in Morocco?

There is a double tax treaty between the UK and Morocco to ensure that Capital Gains Tax (TPI) is not paid in both countries. In Morocco, TPI is 20% of the profit with a minimum 3% of the sale price.

If you sell your property after ten years of ownership, you are fully exempt from TPI.

Owners who sell their property after five years but within ten years are subject to TPI of 10% of any capital gain over 1 million DRH (€'80 65,000). There are no death duties as long as the property stays within the family (however, it is advisable to seek professional tax advice as individual circumstances and company purchases of property can alter your tax liabilities). Tax in Morocco
Click here to see our recommended off-plan investment deal.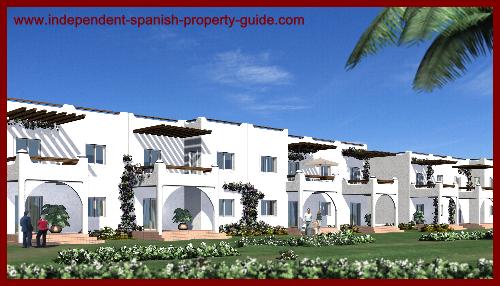 The Resort - Alcudia Smir

Alcudia Smir is a flagship resort development close by Marina Smir being dubbed the new Puerto Banus, with stunning views across the mediterranean to Spain on one side and the towering RIF Mountains on the other. Set in the midst of landscaped gardens, with numerous swimming pools, leisure amenities and just a moment's stroll from the beach, Alcudia Smir is truly a jewel in the crown of this golden coastline. Among the resort's many features and amenities are:



Direct, private access to beach & beach bars


Beach front Promenade with walks to nearby towns Fnidiq, Marina Smir and M'Diq


Sports & Spa facilities on site


Picturesque swimming Pools set in tropical landscaped gardens


Private, exclusive gated resort with 24/7 security planned


Commercial Centre with shops, restaurants, bars & other facilities


4 Star Hotel with restaurants & bars


Royal Cabo Negro Golf Course nearby


New golf course being built adjacent to Alcudia Smir


Water Park 6 kilometres from resort


Brand new promenade containing commercial and leisure facilities




End of Tax in Morocco
Return from tax in morocco to Morocco background information