Morocco background information

Morocco background information
Morocco's Golden Mile - Alcudia Smir Extremely appealing investment option
in Morocco.
Prices between 980€ - 1280 € m2
More info>>>

New beach resort - Morocco
Very economical off plan development
close by 'Marina Smir'.
More info>>>

Invest in Morocco
Smir - The holiday resort of Moroccan
royalty. On the Mediterranean coast very
near to Ceuta and the city of Tetouan.
More info>>>

Morocco is standing on the edge of a big property boom. With property prices three times cheaper than other major European resorts and the Mediterranean climate with its hot summers and mild winters, this is a new emerging market which is only beginning to be noticed by property buyers from around the globe. A friend of mine that visited a short while ago, comparing villas there with a moroccan house and a Morocco apartment, quoted it accurately:"The coasts look like the Spanish Costa del Sol twenty years ago! Unspoiled and undeveloped".
We all know what happened in the last twenty years in Spain. Property prices have been rising rapidly and many investors have been earning fortunes. We predict the same scenario for Morocco.
PROPERTY FACTS: Morocco background information.
Tourism will be the primary export product in the near future. The Moroccan government aims to increase the number of foreign visitors from the current 2 million, to almost 10 million in 2010. Building 900 kilometres of new roads, increasing the number of international flights, developing new airports and allowing cheap European flights into Moroccan airports are just a few of the arrangements the government has made to stimulate tourism. You can now find cheap holidays, very reasonable hotels and the beaches are beautiful.
Taxes are low. Capital Gains Tax is - if the property is sold within five years - charged at 20% of profit with a minimum of 3% of the sale price. A property sold between six and ten years of ownership will pay 10% capital gains tax and 0% thereafter. There is no inheritance tax for family members and Income Tax is not payable on rental income for the first 3 years of ownership.
The capital growth on the Moroccan property market in 2007 is - based on last year´s figures – expected to be between 15 % and 25 %.
Flights take less than 3 hours from the UK. Flights are - because of the ´open skies policy´ that has been launched in 2006 - so travel is as cheap as to any other Mediterranean destination.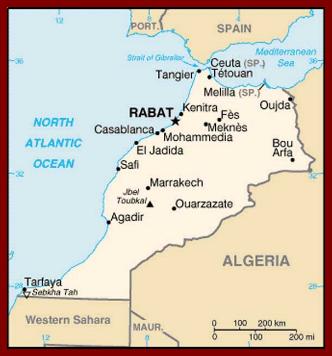 GENERAL INFORMATION: Morocco background information

Where is Morocco located? Located in Northwest Africa with Mediterranean and Atlantic coastlines, Morocco has currently been attracting interest from property buyers all over the world. This country has become one of the major holiday destinations in the Mediterranean, an exotic location with extraordinary natural and cultural wealth.
Most Moroccans are of mixed Arab-Berber descent and are Muslim; Islam is the state religion. There are small Christian and Jewish minorities. Arabic is the official language; Berber dialects, French (a main language for commerce), and Spanish are also spoken. Main cities include the capital city, Rabat, Casablanca, Marrakech, and Fez. Half the labour force is employed in agriculture, growing cereals, citrus fruits, and vegetables. Tourism and fishing also contribute to the economy.

Morrocco is a stable constitutional monarchy with a Parliament and an independent judiciary; however, ultimate authority rests with the king. The population is estimated at 32 million.
MOROCCO CURRENCY:Morocco background information

The Moroccan Dirham is the currency used in Morocco.
1 British Pound = 16.96005 Moroccan Dirham
1 Moroccan Dirham (MAD) = 0.05896 British Pound (GBP) *January 2006
MOROCCO FLAG: Morocco background information TRAVELLING TO MOROCCO :Morocco background information

There are flights available from the following airports:
England: London City, Gatwick, Heathrow, Stansted, Bristol, Birmingham, Luton, Sheffield, Manchester, Newcastle, Southampton, East Midlands, Newcastle, Liverpool, Leeds/Bradford.
Scotland: Glasgow, Aberdeen, Edinburgh.
Wales: Cardiff.
Northern Ireland: Belfast City, Belfast Int'l.
Irish Republic: Dublin, Cork.
Flying from London to Morocco takes – depending on the destination – between 2,5 and 4 hours.

Airports are being upgraded and new ones are being built. The 'Open skies agreement' that was signed in 2006 has made it possible for well known airlines like Ryan Air, Monarch and EasyJet to fly to Tangier and Tetouan (Tetuan) airport.
MOROCCO TIMES: Morocco background information
The times are the same as the U.K.
This country does not operate Daylight-Saving Time.
INTERNATIONAL TELEPHONE DIALLING CODE:
The International Dialling Code is 212.

Morocco background information to Morocco property investment