Moving to Spain
by Hubert Keil. The dream of living in Spain with it´s sun, ocean breezes, white sandy beaches and rich food makes it an inviting place to call home.
However... the thought of moving to Spain brings up many questions.
Questions like:
How can you get into the Health Care System in Spain and how good is it?


You have heard stories about houses being illegally built, How do you know when you are Buying Property that it is legal?


Where can you find stable work ? Do you need work permits?


Should you register with the Tax authorities and how do you? When are you responsible for Income Taxes?
What permits do you need to live in Spain? Where can you get them?

Can you get by speaking only English? Do you need to learn Spanish to live and work there?

Does Spain have a good school system? Are there English speaking schools?
When my wife and I moved to Spain, we faced the same exact questions. Needless to say we learned a lot... the hard way. Fortunately my wife speaks the language, which definitely was a great help.
Since 2003 we have answered thousands of questions from our own personal experience regarding life in Spain at our website alicante-spain.com
We hear it all the time very often the excitement of moving overshadows the details. A couple sees an ad boasting of the Costa Blanca's great climate, inexpensive cost of living, and a simpler life.
They do some research, talk about it, and make the move. Then... reality hits them. They where not prepared and must pay for an expense move back. But... the story could be much different with some help and our first hand experience.
Our family moved to Spain and we absolutely love it . It has been heartbreaking for us to watch so many people fail and families suffer, because of the lack of preparation in their move to Spain.
We knew there was a better way...
That is exactly why we decided to put together an ebook collection to help you and your family in planning your move to Spain.
" ...enormously helpful "
Hi Hubert, The e-books not only help us with the million and one questions we have about moving to Spain, but are enormously helpful to all our friends who go to Spain on holidays. Thank you for all the time and effort you put into the e-books.
Carol & Peter Bams.- Port Talbt, South Wales, UK
Moving and Living in Spain eBook
This ebook has everything you need for your new life in Spain. From planning, moving to buying a home and...
Important Cities, Languages and Climate

Basics on Buying Property

Moving in and Setting up Utilities

Banking

Taxes and Cost of Living

Health Care and Insurance

How to find the right School

Permits and Visas

Daily Life ... from Food and Eating to Getting in Touch with Locals
" information on areas to explore... "
Just a short note to say how helpful and informative your guide books are and all the other bits of information on certain areas to explore. We own a house near La Mata and enjoy our trips there. Great work.
Marie Conc.- Donegal, Ireland
Additional Bonuses

When Ordering Today!

We created additional hands-on checklists and guides. These ebooks are sold individually from $7 to $17 each and are jammed packed with practical information you need when moving to Spain.

Bonus #1

The Property in Spain - Buying, Building and Renting ebook covers all the essentials you must know before you buy or rent any property in Spain. You'll discover an Insider's view to spanish property law, tax and mortgage along with other practical help on:

What is the Right Type of Property for you

Where to find the Best Home to Rent

Property Buying Procedures in Spain

How to find the right Professionals to help you

Avoiding Illegal Properties

Fees and Costs Involved

Getting a Mortgage and Financing

Running Costs of Owning a Home in Spain

Taxes around Your new Property

Bonus #2

A collection of " Moving Checklists " to ensure nothing is forgotten when you make the move:

"Pre-Moving" Checklists
"Getting Ready" Checklists
"Moving Day" Checklists
"Important Documents" Checklists
"Arrival" Checklists

Bonus #3

The Foreign Resident Speed Dictionary will help you find some of the most useful and common words and phrases for foreign residents.

Pleasantries - Greetings and Pardons

Days, Months, Seasons

Numbers

Legal Terms - useful in looking and buying property

Shopping Terms

Many, many other words and phrases
All you need is right here. This entire Moving and Living in Spain ebook can be yours right now for very low price.
The reason we can offer it at this low cost is because the ebook is downloaded to you over your computer and we don't have to fork out any shipping, storage, or manufacturing costs. So we pass the savings on to you.
Our 100% "Better-Than-Risk-Free" Money Back Guarantee!
We say "Better-Than-Risk-Free" since all of the 3 bonuses are yours to keep even in the unlikely event you return the ebook... What we are saying is... Try It Out! We personally guarantee; if you don't learn something new and it will help you in your move to Spain - We'll refund your purchase . No questions asked. A totally Risk Free Decision.
All ebooks and guides are in PDF format and can be downloaded and printed out on your computer as soon as you complete checkout. No need to wait on the mail to arrive. Anytime, day or night, even at 2 a.m. in the morning, you will have it at your fingertips.
To claim your " Moving and Living in Spain ebook " for just $34 , PLUS get your THREE Super Bonuses valued at $34 but yours FREE, just click Here to Order Now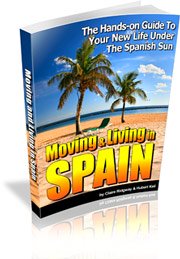 Wishing you a wonderful new life in Spain.
From Alicante all the Best,

P.S. I'm only doing this as part of a special marketing test, so if you want to claim this moving and living in Spain ebook for just $34 PLUS get all THREE Super Bonuses valued at $34 but yours FREE, then I highly recommend that you click here now to claim your copy today!
P.P.S. Here are some more testimonials from real people just like you who have greatly benefited from our knowledge and guides!)
Click Here to Order Now
" so easy to use... "
Its a joy to receive your guide ebooks, you have all worked so hard in providing the most informative information on your site, and its with this useful information that people enjoy and look forward to receiving. It is so easy to use and i would like to thank you all for the really good information. Keep up the good work.
John Mab. -Livingston, Scotland
" ...extremely helpful "
Just before we purchased an apartment in Spain we found the website and joined up. The e books and tips have been extremely helpful.
Toni & Gary - Colchester, Essex
" ...such valuable information "
We are moving to Spain in four weeks time, the website & guide books have provided such valuable information.
Jim & Norma, UK soon to be Cabo Roig, Costa Blanca
" ...smashing service to us ex-pats "
I have been reading your newsletter and ebooks since they began, not only have you answered questions for me and my friends, but as I sell property here, you have been the fount of knowledge for my clients as well. Your e'books have made me more able to find the right areas for my people, all together a smashing service to us 'ex-pats'. Keep it up, and thanks a lot.
Jim P., Pinar de la Horadada, Spain
" ...bonus is that we can download the guide ebooks "
You have given much needed information about the area in which we have purchased a home, with places to visit near and far, that we feel it is home from home when we come over. The added bonus is that we can download the guide ebooks.
M. Ho. - Rochester, England