So you want to buy an apartment in Spain.
Before you make the important decision of buying an apartment in Spain, let us briefly define the different types of apartments. We will also provide the Spanish word for each apartment type, so if you are looking to buy an apartment, you can search the internet using the Spanish word, thus broadening your options of finding the perfect flat.
If you would like to sign up for our newsletter and receive the latest offers, bank repossessiones and information about Spain in English, click here.
A Studio ('Estudio' in Spanish)
The cheapest property in Spain is a STUDIO. A studio is defined as an apartment with a living space and a bathroom and a small kitchen. Studios have combined living and sleeping areas. The average area or a studio maybe between 28 - 40 square metres. Here you can see my daughter Jessica in a studio example in 'IKEA'.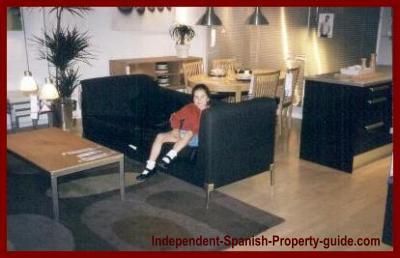 A small apartment or flat (' apartamento' in Spanish)
A holiday apartment (or holiday flat) is a self-contained housing unit that occupies only part of a building. Apartments normally have a separate kitchen, a bathroom and 1 or 2 bedrooms. A balcony is common in Spain as is a community swimming pool.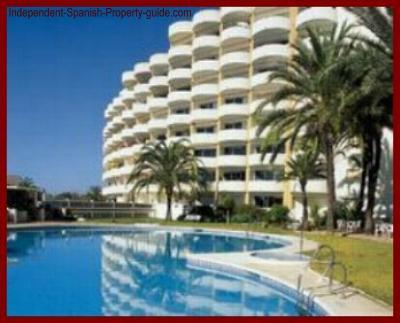 A large apartment or family flat (' piso' in Spanish)
A large apartment or flat would have 3 to 4 bedrooms, perhaps 2 bathrooms, a couple of balconies and a community pool. A family apartment can make an ideal home in Spain, and well as a holiday place for larger families or groups. An apartment should have the best price-quality relation and the lowest maintenance costs. But it is necessary to be aware of the noise-levels and the sanitary habits of your neighbours. In an apartment block you will always have a Community of Owners. For families an apartment in Spain might be your best bet, as you belong to a community, and the children will make friends and play together in the community areas. We adults also meet regularly and chat around the swimming pool. One of the most common comments that we hear from those who have bought abroad is "Why didn't I buy bigger?" You don't realise how many friends and relatives you have until you buy an apartment here! You might consider buying a slightly larger place than you think you need now, because it will pay for itself in the long-run. Want to know about the costs, taxes and fees involved in buying and maintaining an apartment in Spain?
Read the buying expenses guide.
If you want one of our recommended real estate agents to contact you about buying an apartment in Spain, fill out this form.
Not sure if an apartment in Spain is right for you. Read about other types of Spanish properties.
Sign up to our Newsletter to get the latest news on Spain - in English; together with THE LATEST LISTS of Bank Repossessions for Investors;